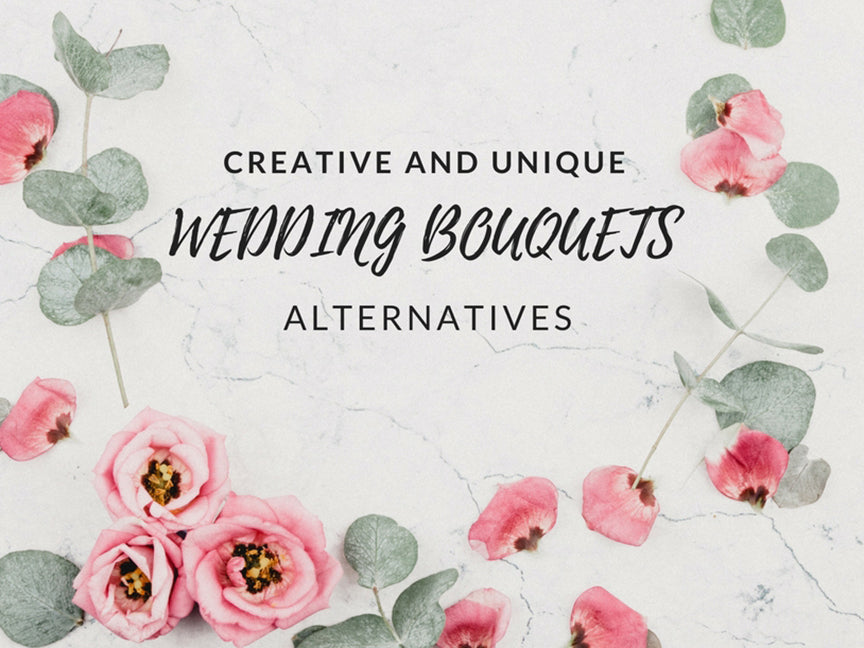 Creative and Unique Wedding Bouquets Alternatives
Guest post by: Georgia Selih at highstylife.com
Each bride has a very specific look in mind when she starts to plan her wedding. Everything from the hair and makeup to the all-important gown is planned and prepared well in advance. But the outfit is so much more than the simple basics: the real life of a bridal look comes with all the accessories and details that are added to it, one of which is the bridal bouquet. But some brides can't have a traditional floral bouquet, because they're allergic to flowers, or they simply don't want one! Well, this is how you can substitute the classic bouquet and make it your own:
Flower necklaces
Want your hands free throughout the ceremony? Modern brides have moved their fresh bouquets from their hands to their necks, with elegant fresh flower necklaces to complete their look. It is a unique look that allows you to have the beautiful pop of color and nature that a bouquet gives, without having to carry it with you. You can make it as big or as small as you want, and have it sit at any height on your dress. You can even make a floral belt if you think that would work best with your look.
Hand fans
Ideal for summer weddings, hand fans can be custom made to fit all kinds of themes and color schemes, being beautiful and practical at the same time. The bridesmaids, as well as the bride, can stay cool and express excitement with the beautiful hand fans, while still staying stylish. If you opt for flat fans, you can print pictures on them with the bride and groom, or of every individual bridesmaid's special moment with the bride. You can go for anything from feather and paper to wood and lace for the fans, depending on what best fits your look.
Artificial flower bouquet
You can still have a beautiful flower arrangement for yourself and your bridesmaids, without using real flowers. And there are so many benefits to using artificial flowers: there is no need to worry about any allergies or bugs the flowers might attract, you can have the bouquet made well ahead of time and make sure it goes with your outfit, and whoever catches it when you throw it over your shoulder will be able to keep it – and maybe even use it at their own wedding! Furthermore, making a beautiful bouquet out of silk flowers means that you can use any flowers – in season or not – and have them look like they are in perfect bloom, all year round. And don't worry, the days of fake-looking flowers are long gone. Nobody will know they're artificial unless you tell them.
Book package
Let's throw out the idea of flowers altogether and bring in something a lot more meaningful. Select some of your favorite books, and find an expert who can bind them in beautiful covers. Then tie it all up with satin or lace and carry it down the aisle. You can do the same for all of your bridesmaids, making them packages with their favorite books, and gift them instead of bouquets. Just make sure that the books aren't too heavy, or you won't be able to carry them for the entire day.
Memorabilia
How about you make something that is completely unique and special to you? Complete your look with a small basket filled with things important to you: childhood toys, pictures of loved ones and memories from the relationship. Or, tell your friends and family to bring a little memory token with them, and assemble your memorabilia basket on the spot. It will be a great memory that you can keep as a beautiful wedding souvenir.
In the time when every wedding seems to be over-the-top and innovative, it's hard to come up with something that is really new and original. But changing a small detail like your bridal bouquet can make all the difference in the setting of your big day.
Images: All images are sourced from Unsplash
Author Bio: Georgia Selih is an author highstylife.com. By nature an artist, by profession a journalist. An irreparable print lover who is enjoying this hot digital affair.