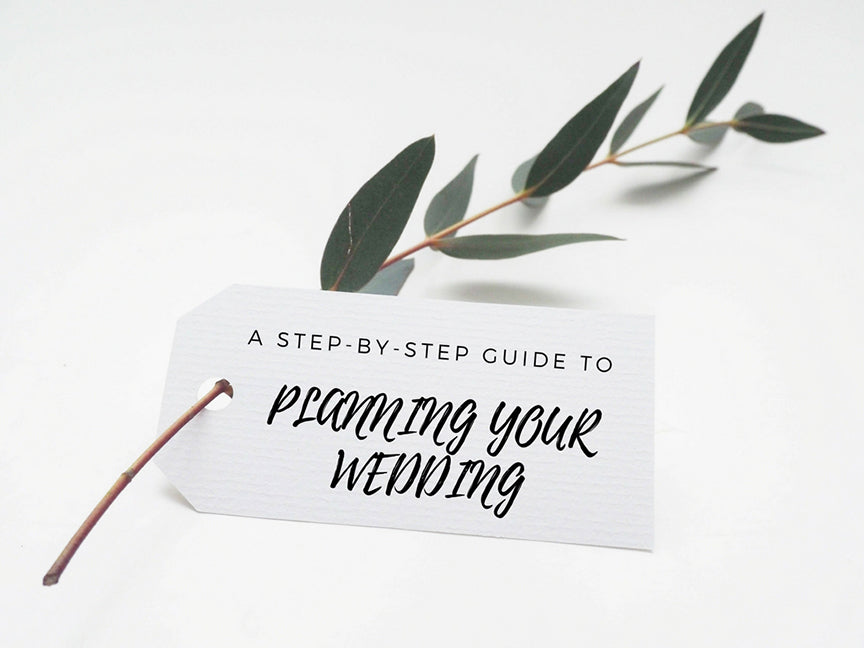 Guest post by: Georgia Selih at highstylife.com
Planning your wedding is a challenging task that requires paying attention to many details from the décor to the food. However, it can be made much simpler and easier if you break it down into a few steps and tackle it one section at a time. With that in mind, we've come up with this brief guide that will hopefully help you stay little bit more organised and in control.

The idea

First, you need to decide what kind of wedding you would like to have in terms of the theme, size, location, etc. Discuss your ideas with your spouse-to- be and try to come up with a plan that includes both your wishes and theirs. Having some basic ideas about what you want to have at your wedding will also make things much easier for your wedding planner (if you are hiring one).

The budget

Besides discussing your ideas, you also need to discuss your budget. You need to know how much you can spend so you can see what you need to focus on and what might need to be left out. Be realistic about your limits and possible savings since the last thing you want is dealing with unpleasant financial surprises. If your parents are interested in helping out, include them in the discussion and planning as well.


The invitations

Don't forget to send out the invitations in time so your guests can clear up their schedules. When it comes to the invitations themselves, it's a good opportunity to give your guests a preview of what they can expect at your wedding by matching their design and colours with the overall theme of your wedding.

The bucks and hen nights

Your amazing bridesmaids and best man should have this covered, but if not, there are many fantastic party planners that can help you organise the best party ever. They would make sure everything is covered from food and drinks to the guest list, and they would also keep your budget in mind so there would be nothing for you to worry about.


The venue

When choosing your venue, don't be afraid to fully explore all your options. It's an important decision, so don't settle for the first place you visit (unless you already know where you want to hold the event).
Either way, you need to keep in mind the size of your wedding, the type, and even the season, in order to make sure that there's room for everything (and everybody). Also, consider hiring an experienced wedding stylist who can help you bring your vision to life by taking care of the interior and decorations.
The food and drinks
When choosing the food, you should organise tasting sessions and check out more than one caterer (if you are having a marquee event and need to source your own caterer). There might also be some guests with allergies, which is why it would be wise to consider offering more than one type of food. As for the drinks, provide your guests with both alcoholic and non-alcoholic options (for the kids and designated drivers).

The details
After you've covered all the main things, all that's left is the little details. Choose your wedding songs, write down your vows, pick the right favours, and perhaps find a way to thank all the people who have helped you plan your wedding – a small but meaningful gift would surely be appreciated. If there are any budget leftovers, you can simply invest a bit more in décor, services or the gifts.
You
Finally, it might sound impossible but do try to find some time to relax. It's important to actually feel good on your wedding day, and it's hard to do that if you're constantly stressed out every day before it.
So, whether it's reading a book that calms you down or going for a walk, try to find some time just for yourself.

Start planning your wedding on time and don't hesitate to get some help if needed. After all, it is your big day and you want it to be perfect, so it's important that you arrive at your wedding refreshed, excited, and as relaxed as you can be. By doing things one step at a time, you will surely manage to take care of everything and enjoy your dream wedding to the fullest.
Images: All images are sourced from Unsplash
Author Bio: Georgia Selih is an author highstylife.com. By nature an artist, by profession a journalist. An irreparable print lover who is enjoying this hot digital affair.